investment viewpoints
Farming 2.0
Farming 2.0
Farming relies on natural capital – the earth's natural resources – to a greater extent than most other businesses. This is why the development and implementation of smart farming techniques is so integral to the advancement of the CLIC™ economy, and also constitutes an important part of our Natural Capital strategy.
Smart farming as an investment theme has started to attract the attention of a number of high-profile figures. Microsoft founder Bill Gates has recently come under the spotlight for accumulating investments in fertile land in the US, and he currently owns around 250,000 acres, according to The Land Report. In light of similar moves from other large institutional investors, there is a growing perception that farm land is under-valued. The value of farmland can be improved by the way it is managed. Investments in efficiency and cost-management methods, such as precision agriculture, can lead to higher valuations, as can converting practices to become more environmentally sustainable, carbon efficient, and biodiverse.
Smarter farming
Smart farming practices, which involve using technology to improve output, are capable of delivering greater yields. The valuation of the companies in the farming space does not fully reflect the full economic value creation, either. The strong economic momentum in the underlying agricultural markets, and secular trends in innovation that address efficiency needs and environmental challenges in the resource-constrained food market, are currently underappreciated factors.
Actually implementing innovative practices and methods is often challenging. A decade of low soft commodity prices has pressured many farmers to try to maximise the lifespan of old equipment, even if replacements and upgrades were due. Where innovation has been present, it is frequently detached from better environmental impacts on natural resources. This extends to poorly controlled run-off of chemicals that damage biodiversity, irrigation systems that abuse water extraction to the extent it can result in source depletion, and extensive soil management practices that affect carbon retention.
The next level of technological innovation
However, the global pandemic has caused significant distortion to global trade and supply chains, which, in combination with weather patterns, has led to depletion of commodity inventories and a consequent surge in soft commodity prices. With farm income levels higher in late 2020, and a similar situation expected in 2021, the agricultural sector is finally on the brink of a strong upgrade cycle, presenting an opportunity to increase adoption of the next level of technological innovation.
The tried-and-tested improvements in farming practices, combined with new tools, will continue to bolster the economics of the industry, safeguarding nature along the way.
Environmental damage in the agricultural sector is a widely recognised issue, but there has been insufficient action taken on this front. Regulators are looking to rectify this through incentive structures such as the European Commission's Farm-to-Fork initiative, for example, and several large corporations, such as Danone1 and General Mills, have elected to stake out a position on regenerative farming commitments. Nestle have committed to investing CHF 1.2bn in regenerative nature practices by 2025, which includes improved agricultural practices like cover cropping, the use of organic fertilizers, and crop rotation; as well as the use of biogas digesters.
Regenerative farming has the potential to deliver huge environmental benefits, including close to a 40% reduction in nitrogen runoff, which is important in terms of protecting biodiversity. Such practices, however, are impossible to implement without enhanced technology. Reduced tilling, crop rotation, and soil management require a number of inputs, ranging from precision irrigation, precision seeding and chemical application, all the way to smart software that integrates soil and plant monitoring with weather patterns and suggested farming activities.
There are a number of tried-and-tested precision agriculture solutions which are yet to reach peak penetration. Today, software systems connected to farming machinery, with smart control and predictive tools, can help farmers not only maximise the precise application of fertiliser through high-degree sensors and application sprayers, but also predict the amount needed to optimise for the crop, soil health and expected weather.
This combination of economic support for spending on capital equipment, a greater awareness of the environmental and financial benefits, and regulatory and social support, has created a supportive environment for farming equipment.
What opportunities does this situation present?
In recognising the scale of the shift, we see a number of attractive investment opportunities. During the first quarter of 2021, we added a new position in AGCO1, one of the leading companies in farm machinery with a strong focus on accelerating growth in its highly differentiated smart offering. The company targets innovation, not only in terms of improved chemical application, predictive tools and integrated farm management, but also more specifically in seedling and planting practices, which are an integral part of effective regenerative farming practices. In its latest results call, AGCO highlighted a 200% yoy growth rate in 2020 for its smart planter full systems, 40% for the planter systems fitted on other machines, and 35% for smart nozzle sprayers, all combined with a view that there have still been low rates of adoption, raising the prospect of further growth.2
The position in AGCO adds to several other holdings in this space, such as Kubota1, a Japanese counterpart of AGCO, or Trimble, a technology company that among other develops smart farming systems, including hardware and software installed on the agricultural machinery for better precision and predictive farming practices.
Conclusion
We expect that in the coming decade, a number of forces will accelerate development and adoption of farming technology further. Water and land conservation, biodiversity preservation, greater efficiency in food production and technological innovation are all positive forces which are helping align farming with the CLIC™ economy. With greater focus on natural capital preservation, regulation is expected to continue to favour improved practices and monitoring. At the same time, investor participation in the land market will support the appreciation of asset values, improving the economics for farmers and potential returns on investments enhancing technological penetration in agriculture.
Precision farming practices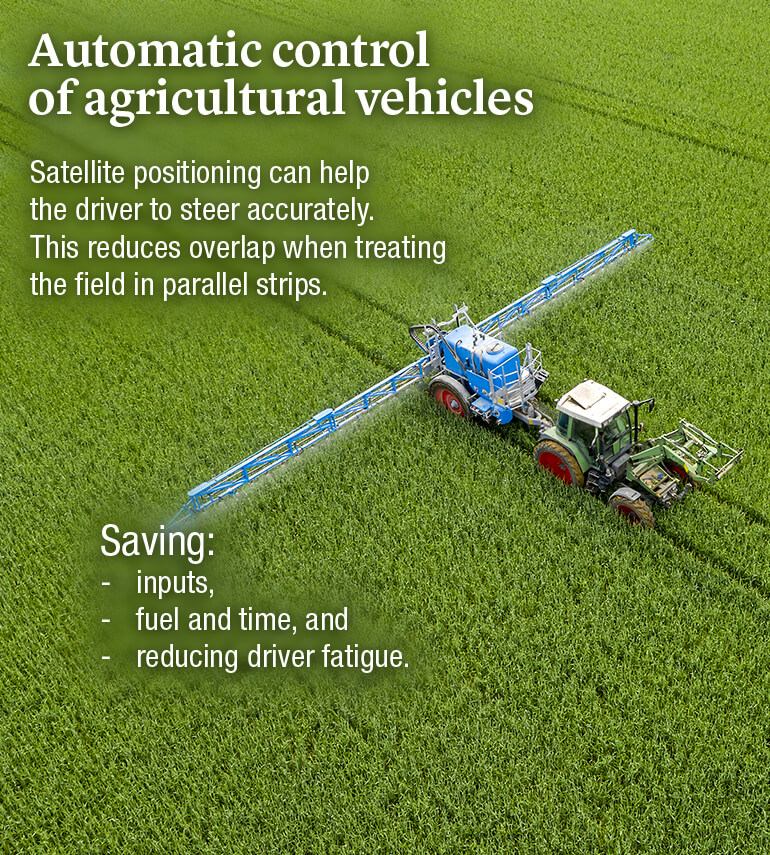 source : The Parliamentary Office of Science and Technology.
1 Any reference to a specific company or security does not constitute a recommendation to buy, sell, hold or directly invest in the company or securities. It should not be assumed that the recommendations made in the future will be profitable or will equal the performance of the securities discussed in this document
2 The case studies provided in this document are for illustrative purposes only and do not purport to be recommendation of an investment in, or a comprehensive statement of all of the factors or considerations which may be relevant to an investment in, the referenced securities. The case studies have been selected to illustrate the investment process undertaken by the Manager in respect of a certain type of investment, but may not be representative of the Fund's past or future portfolio of investments as a whole and it should be understood that the case studies of themselves will not be sufficient to give a clear and balanced view of the investment process undertaken by the Manager or of the composition of the investment portfolio of the Fund now or in the future.
important information.
This document has been issued by Lombard Odier Funds (Europe) S.A. a Luxembourg based public limited company (SA), having its registered office at 291, route d'Arlon, 1150 Luxembourg, authorised and regulated by the CSSF as a Management Company within the meaning of EU Directive 2009/65/EC, as amended; and within the meaning of the EU Directive 2011/61/EU on Alternative Investment Fund Managers (AIFMD). The purpose of the Management Company is the creation, promotion, administration, management and the marketing of Luxembourg and foreign UCITS, alternative investment funds ("AIFs") and other regulated funds, collective investment vehicles or other investment vehicles, as well as the offering of portfolio management and investment advisory services.
Lombard Odier Investment Managers ("LOIM") is a trade name.
This document is provided for information purposes only and does not constitute an offer or a recommendation to purchase or sell any security or service. It is not intended for distribution, publication, or use in any jurisdiction where such distribution, publication, or use would be unlawful. This material does not contain personalized recommendations or advice and is not intended to substitute any professional advice on investment in financial products. Before entering into any transaction, an investor should consider carefully the suitability of a transaction to his/her particular circumstances and, where necessary, obtain independent professional advice in respect of risks, as well as any legal, regulatory, credit, tax, and accounting consequences. This document is the property of LOIM and is addressed to its recipient exclusively for their personal use. It may not be reproduced (in whole or in part), transmitted, modified, or used for any other purpose without the prior written permission of LOIM. This material contains the opinions of LOIM, as at the date of issue.
Neither this document nor any copy thereof may be sent, taken into, or distributed in the United States of America, any of its territories or possessions or areas subject to its jurisdiction, or to or for the benefit of a United States Person. For this purpose, the term "United States Person" shall mean any citizen, national or resident of the United States of America, partnership organized or existing in any state, territory or possession of the United States of America, a corporation organized under the laws of the United States or of any state, territory or possession thereof, or any estate or trust that is subject to United States Federal income tax regardless of the source of its income.
Source of the figures: Unless otherwise stated, figures are prepared by LOIM.
Although certain information has been obtained from public sources believed to be reliable, without independent verification, we cannot guarantee its accuracy or the completeness of all information available from public sources.
Views and opinions expressed are for informational purposes only and do not constitute a recommendation by LOIM to buy, sell or hold any security. Views and opinions are current as of the date of this presentation and may be subject to change. They should not be construed as investment advice.
No part of this material may be (i) copied, photocopied or duplicated in any form, by any means, or (ii) distributed to any person that is not an employee, officer, director, or authorised agent of the recipient, without Lombard Odier Funds (Europe) S.A prior consent. ©2021 Lombard Odier IM. All rights reserved.