white papers
Investing in Nature: the true engine of our economy
Head of Sustainability Research
Nature is in decline. With it, we are losing one of our most productive forms of capital and ultimately we are putting at risk our society, economy, health and way of life.
In November, His Royal Highness The Prince of Wales launched the Circular Bioeconomy Alliance within the framework of the Sustainable Markets Initiative. Recognising the need to mobilise investment in a nature-based economy, the Prince said "We need to accelerate our efforts and set the course for a sustainable future rooted in a new economic model – in other words, a circular bioeconomy that puts Nature and the restoration of Natural Capital at the centre of the entire process. Building a sustainable future is, in fact, the growth story of our time. If we are to drive global economic growth, it is imperative that we value and invest in our natural capital."1
At Lombard Odier, we agree. In our new research paper, we explore the role of natural capital, its relevance to our economy, and the implications of its decline to society and to investors. We explore the underlying causes of the threats to nature that are rooted in our economic system, and define the economic transformations needed to transition to a more sustainable, bio-aligned alternative – and the investment opportunities it creates.
Here we summarise the four key takeaways from the paper:
Key takeaway #1: Nature is the bedrock of our economy
Our economy is not a system external to nature, but is wholly encompassed by it. Nature provides the stable conditions that have allowed civilisations to thrive, but is also a highly-productive asset to our economy. At least USD 44 trillion worth of GDP is moderately or highly-dependent on nature2. Even such measurements of GDP, however, take an incomplete account of the contribution of nature and do not capture additional contributions provided by nature in the form of maintenance of the quality of our air, water and soils, the protection provided against natural disasters, or by other ecosystem services such as pollination.
Although these contributions are rarely recognized, their value can be significant. Pollination alone, for instance, supports up to USD 577 billion in crops per year but is now put at risk through declining insect populations
3
. Contributions such as these support many of our most vital industries, including agriculture, fisheries and forestry, but also including our pharmaceutical industry (drawing on nature's genetic diversity for new drug discovery) and even real estate (with property prices often directly linked to proximity to nature).
Key takeaway #2: Our impact on nature has pushed us past the point of stability
In past centuries the impact of our economy might have been deemed comparatively harmless. As our population and economy have grown, however, so too has our economic impact4. Today, we live in a take-make-waste economy that extracts 92 billion tonnes of resources (over half the weight of Mount Everest) every year5, used to produce goods that largely sit idle, and when discarded at the end of their lives lead to growing volumes of avoidable waste.
The resulting depletion, destruction and disruption of natural capital has led us to exceed manageable limits that define the safe space within which humanity can thrive, leading to elevated risks of natural disruption, or collapse. Out of nine key planetary boundaries that support the conditions favourable to human development, four have already been crossed6. Similarly, of 18 key ecosystem services that nature provides, 14 are now in decline, including many of the contributions identified above that support our economy7.
Key takeaway #3: To preserve growth we must put nature at the heart of our economy
As human impact has grown more destructive, past business models are no longer fit for the future. As a result of regulatory, consumer and market forces, a transition to a more nature-positive economy is already underway and accelerating. This transition leads us towards a "butterfly" economy, defined by two, circular wings. The first wing harnesses nature through the circular bio-economy and could supply 60% of our economy's inputs through biological processes8. The second wing comprises a leaner and more circular form of industry, built around resource efficiency and outcome-oriented business models, closing the loop on our ecological footprint to move to a zero waste society.
By drawing more on the resources that nature itself can provide and extracting fewer of the non-renewable materials that our economy currently is so accustomed to, we maximize value addition and minimize our adverse impact on the very forms of natural capital that sustains our economy.
Figure 1. The transition to the butterfly economy
Source: Lombard Odier. For illustrative purposes only.
Key takeaway #4: The time is ripe to reallocate capital to nature
In 2021, new targets for the preservation of biodiversity are likely to be agreed at a biodiversity conference in Kunming, China. Meanwhile, costs of bio-technologies are falling. For instance, in 2013 the first burger using lab-grown beef cost over USD 300,000 to make, but within two years had fallen to USD 11, while plant-based alternatives have already hit the market9. At the same time, consumer sentiment is shifting to greater eco-awareness10, driving investment in these new technologies, supporting their economies of scale, and further driving down costs.
The combined effects of regulatory, technological and consumer forces will lead to a repricing of assets to take into account nature-related risks – and opportunities. The commercialisation of hundreds of new bio-based applications presents a USD 4 trillion opportunity11. We believe companies leveraging the regenerative power of nature will deliver strong growth and become the winner of the future.
Natural Capital and the CLIC™ economy
To us at Lombard Odier, it is clear that the future will be both green and biodiverse. The transition to a more bio-friendly CLIC™ economy is first and foremost driven by value creation and superior economics. It is happening now and it is accelerating. Natural capital will be its most vital foundation. Through our Natural Capital strategy, we invite investors to rethink investment, and contribute to a new and superior economic model.
Figure 2. The circular bio-economy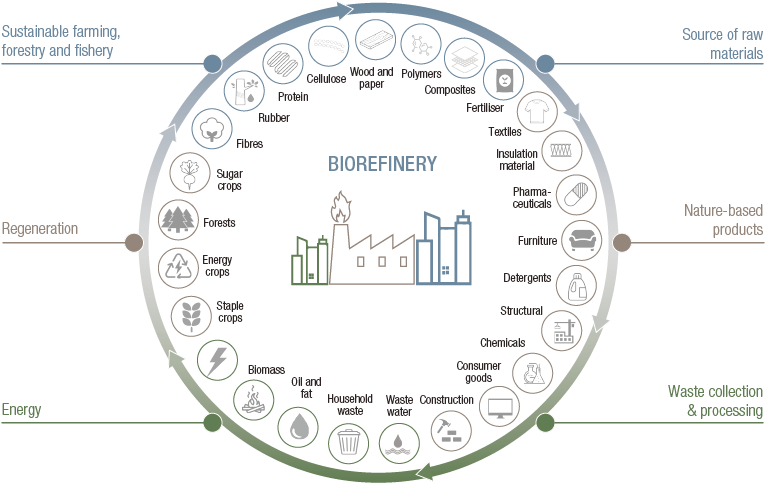 Source: Lombard Odier. For illustrative purposes only.
sources.
2
World Economic Forum, 2020
3 United Nations Development Programme, 2017
4 Dasgupta, 2020
6
Steffen & al, 2015
;
PIK, 2015
8
McKinsey Global Institute, 2020
9
McKinsey Global Institute, 2020
10 Among consumers, self-reported veganism is up 600% in the US over just three years
(GlobalData, 2017)
; 86% of UK consumers express concern over plastic waste
(ADHB, 2019)
; and a backlash against fast fashion is resulting in less consumer emphasis on the "newness" of clothing
(McKinsey & Company, 2020)
.
11
McKinsey Global Institute, 2020
bibliography.
Circular Bio-economy Alliance. (2020). HRH's Circular Bioeconomy Alliance Inspires New Global Fund.
Dasgupta, P. e. (2020). Interim Report - The Dasgupta Review: Independent Review on the Economics of Biodiversity. HM Treasury. Retrieved from https://www.gov.uk/government/publications/interim-report-the-dasgupta-review-independent-review-on-the-economics-of-biodiversity
IPBES. (2019). Global assessment report on biodiversity and ecosystem services of the Intergovernmental Science-Policy Platform on Biodiversity and Ecosystem Services. Bonn: E. S. Brondizio, J. Settele, S. Díaz, and H. T. Ngo (editors).
McKinsey Global Institute. (2020). The Bio Revolution: Innovations transforming economies, societies and our lives. Retrieved from https://www.mckinsey.com/industries/pharmaceuticals-and-medical-products/our-insights/the-bio-revolution-innovations-transforming-economies-societies-and-our-lives
PIK. (2015, 16 1). Four of nine planetary boundaries now crossed. Retrieved from Potsdam Institute for Climate Impact Research: https://www.pik-potsdam.de/en/news/latest-news/four-of-nine-planetary-boundaries-now-crossed
RethinkX. (2019). Rethinking Food and Agriculture 2020-2030: The Second Domestication of Plants and Animals, the Disruption of the Cow, and the Collapse of Industrial Livestock Farming. Retrieved from https://www.rethinkx.com/food-and-agriculture#food-and-agriculture-download
Steffen, W. R., & al, e. (2015). Planetary Boundaries: Guiding human development on a changing planet. Science (Vol. 347, Issue 6223). Retrieved from https://science.sciencemag.org/content/347/6223/1259855.abstract
World Economic Forum. (2020). Nature Risk Rising: Why the Crisis Engulfing Nature Matters for Business and the Economy. Cologne/Geneva.
important information.
This document has been issued by Lombard Odier Funds (Europe) S.A. a Luxembourg based public limited company (SA), having its registered office at 291, route d'Arlon, 1150 Luxembourg, authorised and regulated by the CSSF as a Management Company within the meaning of EU Directive 2009/65/EC, as amended; and within the meaning of the EU Directive 2011/61/EU on Alternative Investment Fund Managers (AIFMD). The purpose of the Management Company is the creation, promotion, administration, management and the marketing of Luxembourg and foreign UCITS, alternative investment funds ("AIFs") and other regulated funds, collective investment vehicles or other investment vehicles, as well as the offering of portfolio management and investment advisory services.
Lombard Odier Investment Managers ("LOIM") is a trade name.
This document is provided for information purposes only and does not constitute an offer or a recommendation to purchase or sell any security or service. It is not intended for distribution, publication, or use in any jurisdiction where such distribution, publication, or use would be unlawful. This material does not contain personalized recommendations or advice and is not intended to substitute any professional advice on investment in financial products. Before entering into any transaction, an investor should consider carefully the suitability of a transaction to his/her particular circumstances and, where necessary, obtain independent professional advice in respect of risks, as well as any legal, regulatory, credit, tax, and accounting consequences. This document is the property of LOIM and is addressed to its recipient exclusively for their personal use. It may not be reproduced (in whole or in part), transmitted, modified, or used for any other purpose without the prior written permission of LOIM. This material contains the opinions of LOIM, as at the date of issue.
Neither this document nor any copy thereof may be sent, taken into, or distributed in the United States of America, any of its territories or possessions or areas subject to its jurisdiction, or to or for the benefit of a United States Person. For this purpose, the term "United States Person" shall mean any citizen, national or resident of the United States of America, partnership organized or existing in any state, territory or possession of the United States of America, a corporation organized under the laws of the United States or of any state, territory or possession thereof, or any estate or trust that is subject to United States Federal income tax regardless of the source of its income.
Source of the figures: Unless otherwise stated, figures are prepared by LOIM.
Although certain information has been obtained from public sources believed to be reliable, without independent verification, we cannot guarantee its accuracy or the completeness of all information available from public sources.
Views and opinions expressed are for informational purposes only and do not constitute a recommendation by LOIM to buy, sell or hold any security. Views and opinions are current as of the date of this presentation and may be subject to change. They should not be construed as investment advice.
No part of this material may be (i) copied, photocopied or duplicated in any form, by any means, or (ii) distributed to any person that is not an employee, officer, director, or authorised agent of the recipient, without Lombard Odier Funds (Europe) S.A prior consent. ©2021 Lombard Odier IM. All rights reserved.