world in transition
The resource efficiency revolution
Group Head of Sustainable Investment Research, Strategy & Stewardship
Head of Sustainability Research
The global economy is dysfunctional and fails to recognise its own self-destructive nature. In short, it is WILD (Wasteful, Idle, Lopsided and Dirty). However, it is still possible to halt the escalation of climate damage and reverse the rampant destruction of earth's vital resources – or natural capital. To bring about this economic transformation, we must understand and address several key sustainability dynamics. Here, we address the need to improve resource efficiency and highlight how a better use of materials, better processes and a focus on longer-lived products can not only streamline material requirements but also lead to attractive investment opportunities.
Resource efficiency is the epitome of "doing more with less" and of "working smarter, not harder". Today, we consume roughly 13 tonnes of materials per year for every person on Earth, necessitating the extraction of minerals, ores, fossil fuels and biomass1. While some of these materials are used in the production of goods and services, much of it is lost. For instance, the production of one t-shirt (250 grams) requires 1,152 grams of cotton, with material losses amounting to around 78%2. The use of alternative materials, improved production techniques, lightweight and easy-to-manufacture designs can reduce manufacturing losses in different sectors, cut material costs and have a less negative environmental impact.
At Lombard Odier we believe by analysing the challenge of resource efficiency as part of the transition to a CLIC™ (circular, lean, inclusive and clean) economy, we can identify investable opportunities across multiple industries
We see advanced materials and industry 4.0 as two technology solutions paving the way to "achieving more with less". The aerospace sector is an example of how improved process techniques can affect great change. Traditional manufacturing techniques lead to material losses in excess of 90%, meaning less than one in ten kilograms of material purchased makes it onto the final airplane. New additive manufacturing techniques (including, but not limited to, 3D printing) enable the production of parts with little or any material loss. Technologies such as these are rapidly maturing, allowing for the production of larger, more complex parts comprised of a variety of materials, expanding the potential for sustainable processes, as well as presenting investable opportunities in this space3.
The case for Industry 4.0: Reduced material losses through additive manufacturing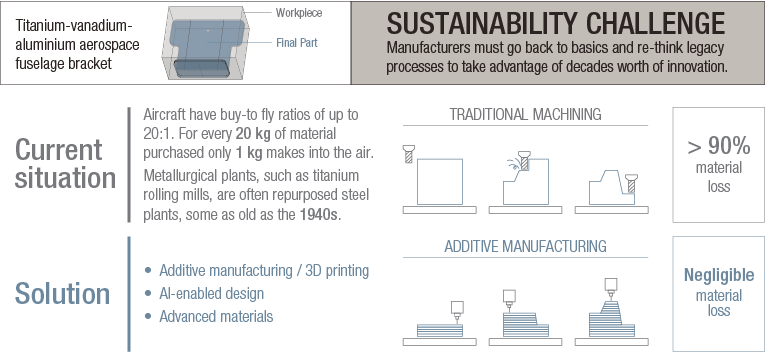 Source: Digital Alloys4
Opportunity examples
An increase in the range, complexity and size of parts that can be produced using additive processes is opening up markets for the most manufacturers of industrial equipment, powder metal and metal alloys, and specialised parts in aerospace and other industries.
Awareness of the importance of resource efficiency is increasing as the scale of raw material extraction continues to disregard the size of the planet's dwindling reserves of key resources5. As many as 27 raw materials are now on the EU's "critical" list, which signifies they are of high economic importance and exposed to significant supply chain risk6. Whereas for some materials, such as rare earths (used in the production of magnets, wind turbines and electric motors), supply remains luxuriously abundant, those of other key materials such as zinc (used in construction) and tin (used in electronics) might be depleted in a few years and other key materials, such as cobalt, nickel and copper (all essential to batteries and vehicle electrification), are not far behind.
As concerns over the present and future availability of raw materials increase, prices have become increasingly volatile. Resource prices are more volatile today than at any point during the previous century – with the sole exception of energy prices in the 1970s7. European manufacturing firms report they are currently spending around 40% of their costs on raw materials, with energy and water pushing total spending on natural resources to 50%8. Resource efficiency, therefore, would represent a competitive advantage enabling manufacturers to reduce costs, as well as decrease their dependence on volatile markets and lower their exposure to reputational risks that can be associated with mining and other extraction industries.
Share of manufacturing costs accounted for by natural resources

Source: Adapted from WasteEcoSmart9
Investable opportunities
The streamlining of production processes and greater reliance on recycling are two long-standing techniques that could be better used to reduce material footprint and costs. With increased pressure on the availability and cost of raw materials, and the need to maintain competitive advantages, new solutions are emerging to offer a more radical improvement in performance. We believe many of the following solutions could be used across a number of industrial sectors, with their scalability and widespread applicability boosting overall investment credentials:
The Internet of things is often represented by household examples such as "smart fridges", but aside from enhanced product features, connected devices allow for the real-time tracing of materials and inventories to provide streamlining opportunities. Business investment accounts for 50% of spending on connected devices, with 54% of projects motivated by cost savings10.

Smart production aims to enhance productivity and reduce unplanned downtime, which represents a significant cost to manufacturers – estimated to be USD 50 billion annually11. In a study of the pulp and paper industry, for instance, the use of technologies to improve the management of production processes and predict equipment failures were found to contribute a 66% productivity gain among staff and a 20-30% improvement in process efficiency12.

Additive manufacturing (such as 3D printing) offers a means of reducing waste and facilitating more complex, material-efficient designs. New designs may be capable of reducing component weight in some industries by half13. The prices of some of the resins used in 3D printing have fallen by 80% over three years, increasing the range of materials and the components capable of being produced by these techniques14.

Active and intelligent packaging aims to reduce spoilage, which is a key contributor to resource inefficiency in the food industry. Examples of improved forms of packaging include the use of nanotubes and bioprotective cultures that carry antimicrobial properties and the use of intelligent packaging to track storage conditions and communicate to consumers whether food is still suitable to eat.

Advanced materials offer opportunities for "lightweighting" materials, through the use of high strength alloys or the use of more environmentally-friendly, renewable materials. Examples include high-strength steel (which reduces the material weight by 25% compared to regular steel), the use of composite materials as a substitute for titanium and aluminium, as well as bio-inspired materials.
Our economy must transition to a more Circular, Lean, Inclusive and Clean (CLIC™) model. Transitioning to a more circular bio-economy could unlock trillions in untapped value, as well as progressing efforts to achieve sustainability. By analysing the exposure of business models to an economy focused on improving resource efficiency we believe we can identify those companies best able to outperform and unlock the potential of the CLIC™ economy.
sources.
4 Idem.
8 Idem.
12 Idem.
13 Bloomberg NEF (2019). 2H 2019 Advanced Materials Market Outlook.
14 Bloomberg NEF (2019). 3D Printing Materials Overview: Costs and Capabilities.
important information.
This document has been issued by Lombard Odier Funds (Europe) S.A. a Luxembourg based public limited company (SA), having its registered office at 291, route d'Arlon, 1150 Luxembourg, authorised and regulated by the CSSF as a Management Company within the meaning of EU Directive 2009/65/EC, as amended; and within the meaning of the EU Directive 2011/61/EU on Alternative Investment Fund Managers (AIFMD). The purpose of the Management Company is the creation, promotion, administration, management and the marketing of Luxembourg and foreign UCITS, alternative investment funds ("AIFs") and other regulated funds, collective investment vehicles or other investment vehicles, as well as the offering of portfolio management and investment advisory services.
Lombard Odier Investment Managers ("LOIM") is a trade name.
This document is provided for information purposes only and does not constitute an offer or a recommendation to purchase or sell any security or service. It is not intended for distribution, publication, or use in any jurisdiction where such distribution, publication, or use would be unlawful. This material does not contain personalized recommendations or advice and is not intended to substitute any professional advice on investment in financial products. Before entering into any transaction, an investor should consider carefully the suitability of a transaction to his/her particular circumstances and, where necessary, obtain independent professional advice in respect of risks, as well as any legal, regulatory, credit, tax, and accounting consequences. This document is the property of LOIM and is addressed to its recipient exclusively for their personal use. It may not be reproduced (in whole or in part), transmitted, modified, or used for any other purpose without the prior written permission of LOIM. This material contains the opinions of LOIM, as at the date of issue.
Neither this document nor any copy thereof may be sent, taken into, or distributed in the United States of America, any of its territories or possessions or areas subject to its jurisdiction, or to or for the benefit of a United States Person. For this purpose, the term "United States Person" shall mean any citizen, national or resident of the United States of America, partnership organized or existing in any state, territory or possession of the United States of America, a corporation organized under the laws of the United States or of any state, territory or possession thereof, or any estate or trust that is subject to United States Federal income tax regardless of the source of its income.
Source of the figures: Unless otherwise stated, figures are prepared by LOIM.
Although certain information has been obtained from public sources believed to be reliable, without independent verification, we cannot guarantee its accuracy or the completeness of all information available from public sources.
Views and opinions expressed are for informational purposes only and do not constitute a recommendation by LOIM to buy, sell or hold any security. Views and opinions are current as of the date of this presentation and may be subject to change. They should not be construed as investment advice.
No part of this material may be (i) copied, photocopied or duplicated in any form, by any means, or (ii) distributed to any person that is not an employee, officer, director, or authorised agent of the recipient, without Lombard Odier Funds (Europe) S.A prior consent. ©2020 Lombard Odier IM. All rights reserved.